Lord Sri Krishna is the eighth of the Dashavataras but according to Srimad Bhagavatam He is not an avatar but He is Swayam Bhagavan, the original source of all incarnations. He is para-brahma and He is the Supreme Personality.
The below prayers can be recitate daily by offering flowers or Tulasi to Krishna. It contains 108 Names of Krishna taken from Vishnu Sahasranama.
ॐ श्री कृष्णाय नमः
oṁ śrī kṛṣṇāya namaḥ || 1 ||
Obeisance to Lord Shri Krishna, who has a dark, attractive complexion, who attracts the mind of others (i.e. 'karshati iti')
ॐ कमलनाथाय नमः
oṁ kamala-nāthāya namaḥ || 2 ||
the Lord of Goddess Lakṣmī, Kamalā,
[wp_ad_camp_1]
ॐ वासुदॆवाय नमः
oṁ vāsudevāya namaḥ || 3 ||
Vasudeva's son
ॐ सनातनाय नमः
oṁ sanātanāya namaḥ || 4 ||
the eternal Lord
ॐ वासुदॆवात्मजाय नमः
oṁ vāsudevātmajāya namaḥ || 5 ||
Salutations to Vāsudeva (Vāsudev's son, Krishna)
ॐ पुण्याय नमः
oṁ puṇyāya namaḥ || 6 ||
the Meritorious One, who is consummate piety
ॐ लीलामानुष विग्रहाय नमः
oṁ līlā-mānuṣa-vigrahāya namaḥ || 7 ||
who has assumed a human-like form (as Rama or Krishna) to perform His divine pastimes
ॐ श्रीवत्स कौस्तुभधराय नमः
oṁ śrīvatsa-kaustubha-dharāya namaḥ || 8 ||
the Lord who wears the Shri Vatsa (representing Shri Lakshmi) and the Kaustubha gem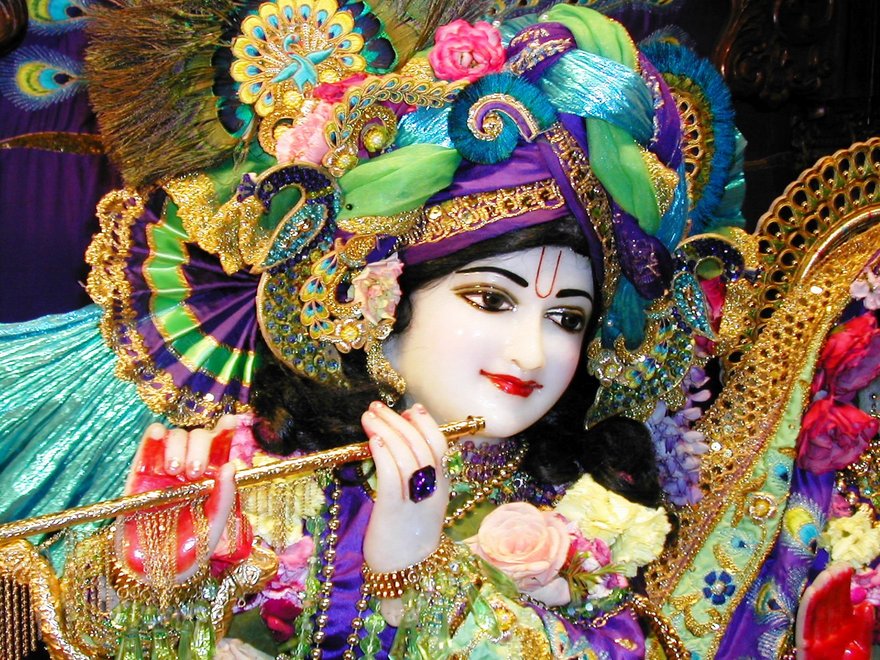 ॐ यशॊदावत्सलाय नमः
oṁ yaśodā-vatsalāya namaḥ || 9 ||
Mother Yashoda's darling child, the object of Yashoda's maternal affections
ॐ हरये नमः ॥ १० ॥
oṁ haraye namaḥ || 10 ||
Salutations to Lord Hari
ॐ चतुर्भुजात्त चक्रासिगदा शङ्खाम्बुजा युदायुजाय नमः
oṁ caturbhujātta cakrāsi gadā śaṅkhāmbujā yudāyujāya namaḥ || 11 ||
the Four-armed Lord who carries the weapons of disc, conch, club and lotus
ॐ दॆवाकीनन्दनाय नमः
oṁ devakī-nandanāya namaḥ || 12 ||
One who gladdens the heart of His Mother, Devaki and brings joy to her.
ॐ श्रीशाय नमः
oṁ śrīśāya namaḥ || 13 ||
the abode of Shri (Lakshmi)
ॐ नन्दगॊप प्रियात्मजाय नमः
oṁ nanda-gopa-priyātmajāya namaḥ || 14 ||
Nanda Gopa's darling child, dear son of the cowherd Nanda
ॐ यमुनावेग संहारिणॆ नमः
oṁ yamunā-vega-saṁhāriṇe namaḥ || 15 ||
the Lord who checked the flow of the Yamunā
ॐ बलभद्र प्रियनुजाय नमः
oṁ bala-bhadra-priyānujāya namaḥ || 16 ||
Balabhadra's (Balarama's) dear younger brother
ॐ पूतनाजीवित हराय नमः
oṁ pūtana-jīvita-harāya namaḥ || 17 ||
the Destroyer of the demoness Putana
ॐ शकटासुर भञ्जनाय नमः
oṁ śakaṭāsura-bhañjanāya namaḥ || 18 ||
the Lord who destroyed the cart demon Sakatasura
ॐ नन्दव्रज जनानन्दिनॆ नमः
oṁ nanda-vraja-janānandine namaḥ || 19 ||
the Lord who brought great happiness to Nanda and the people of Vraja
ॐ सच्चिदानन्द विग्रहाय नमः ॥ २० ॥
oṁ saccid-ānanda-vigrahāya namaḥ || 20 ||
the Lord who's embodiment is of eternal Existence, Knowlwdge and Bliss
ॐ नवनीत विलिप्ताङ्गाय नमः
oṁ navanīta-viliptāṅgāya namaḥ || 21 ||
the Lord whose body is smeared all over with butter
ॐ नवनीत नटनाय नमः
oṁ navanīta naṭanāya namaḥ || 22 || (naṭāya)
the One who danced to get butter
ॐ अनघाय नमः
oṁ anaghāya namaḥ || 23 ||
the sinless One
ॐ नवनीतनवाहाराय नमः
oṁ navanīta-navā-hārāya namaḥ || 24 || (navanīta-harāya)
whose first food was fresh butter
ॐ मुचुकुन्द प्रसादकाय नमः
oṁ mucukunda-prasādakāya namaḥ || 25 ||
the Lord who blessed (gave salvation) to King Muchukunda
ॐ षॊडशस्त्री सहस्रॆशाय नमः
oṁ ṣoḍaśastrī-sahasreśāya namaḥ || 26 ||
the Lord of sixteen thousand wives
ॐ त्रिभङ्गिनॆ मधुराकृतये नमः
oṁ tribhaṅgine madhurākṛtaye namaḥ || 27 || (Tribhangi Lalitakritaye)
the sweet lord, who poses in a threefold-bending form
ॐ शुकवागमृताब्धीन्दवे नमः
oṁ śukavāg-amṛtābdhīndave namaḥ || 28 ||
the ocean of nectar in the form of Sukadeva's words (spoken as Srimad-Bhagavatam)
ॐ गॊविन्दाय नमः
oṁ govindāya namaḥ || 29 ||
the Lord of the cows
ॐ यॊगिनाम्पतयॆ नमः ॥ ३० ॥
oṁ yoginām-pataye namaḥ || 30 ||
the Lord of the yogIs
ॐ वत्सपालना संचारिने नमः
oṁ vatsapālanā sancārine namaḥ || 31 || (vatsavāṭi carāya – वत्सवाटचराय )
the Lord who roamed (in Vrindavana) with the company of calves and friendly cowherd boys
ॐ अनन्ताय नमः
oṁ anantāya namaḥ || 32 ||
the Unlimited, Infinite One
ॐ धेनुकासुरभञ्जनाय नमः
oṁ dhenukāsura-bhañjanāya namaḥ || 33 || (mardanāya – मर्दनाय)
the Lord who killed the ass-demon Dhenukasura
ॐ तृणी कृत तृणावर्ताय नमः
oṁ tṛṇī-kṛta-tṛṇāvartāya namaḥ || 34 ||
the Lord who destroyed the whirlwind demon Trinavarta
ॐ यमलार्जुन भञ्जनाय नमः
oṁ yamaḷārjuna-bhañjanāya namaḥ || 35 ||
the Lord who broke the two Yamala-Arjuna trees
ॐ उत्तलॊत्ताल भॆत्रॆ नमः (उत्ताल-ताल)
oṁ uttālottāla-bhetre namaḥ || 36 || (uttāla-tāla)
the Lord who broke all the big, tAla trees (killing Dhenuka)
ॐ तमाल श्यामलाकृतये नमः
oṁ tamāla śyāmalākṛtaye namaḥ || 37 ||
the Lord who is a beautiful blackish as the dark Tamala tree
ॐ गॊपगॊपीश्वराय नमः
oṁ gopa-gopīśvarāya namaḥ || 38 ||
The Lord of the gopas and gopīs (the cowherd boys and damsels of Vrindavan)
ॐ यॊगिनॆ नमः
oṁ yogine namaḥ || 39 ||
the greatest Yogī
ॐ कॊटिसूर्य समप्रभाय नमः ॥ ४० ॥
oṁ koṭi-sūrya-sama-prabhāya namaḥ || 40 ||
the Lord who is as lustrous as a million suns
ॐ इलापतयॆ नमः
oṁ iḷā-pataye namaḥ || 41 ||
Lord of IlA, the earth
ॐ परस्मै ज्योतिषे नमः
oṁ parasmai-jyotiṣe namaḥ || 42 || (parañjyotiṣe – परञ्ज्यॊतिषॆ)
the Supreme light, the Supreme Radiance
ॐ यादवॆन्द्राय नमः
oṁ yādavendrāya namaḥ || 43 ||
the king of the Yadu clan (Yadavas)
ॐ यदूद्वहाय नमः
oṁ yadu-dvahāya namaḥ || 44 ||
the preeminent leader of the Yadu Dynasty
ॐ वनमालिनॆ नमः
oṁ vanamāline namaḥ || 45 ||
One who wears the divine garland made of wild forest flowers (Vaijayanthi)
ॐ पीतवाससे नमः
oṁ pīta-vāsase namaḥ || 46 || (pītavāsane)
the Lord who wears yellow garments
ॐ पारिजातपहारकाय नमः
oṁ pārijāta-apahārakāya namaḥ || 47 ||
the Lord who removed the parijatha flower (from India's garden)
ॐ गोवर्धनाचलोद्धर्त्रे नमः
oṁ govardhanācaloddhartre namaḥ || 48 ||
the Lord who held up the Govardhana mountain